The study of the Bible in its historical context - with a focus on the archaeology, history, geography, customs , culture, and even the languages of the ancient Middle East. WE ask what did they understand THEN - the original intent of the Lord - so that we can expand and enrich our understanding NOW and thus become true disciples of Adonai Yeshua as in John 8:31-32.
Episodes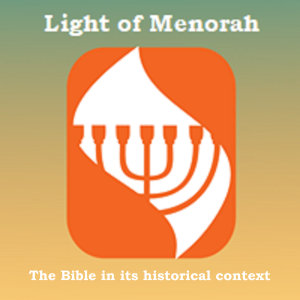 Monday Jan 30, 2023
Monday Jan 30, 2023
(Note - it is highly recommended that you listen to lesson 1 of this series on the Lord's prayer.  I provided the link below).
I remember a time when I had hurt someone in one of my classes.  I reacted to their opinion on a specific issue very harshly.  Later I did learn from others in the class that 1) they did not appreciate my intense reaction to this person and 2) they knew this person was hurt and angry with me and 3) they understood why I got so angry but it was not the proper way of handling the situation.  Needless to say, I hurt someone with my words.  It reminded me me of ...
"The good man brings out of his good treasure what is good; and the evil man brings out of his evil treasure what is evil. But I tell you that every careless word that people speak, they shall give an accounting for it in the day of judgment. For by your words you will be justified, and by your words you will be condemned." (Mat 12:35-37)
Ouch!  His Spirit was working in me telling me that I sinned.  Something needed to happen.
On one hand, this person I hurt may have forgiven me "in his heart."  He may have done this based upon what Jesus teaches that ...
"My heavenly Father will also do the same to you, if each of you does not forgive his brother from your heart." (Mat 18:35)
Many of us do this as Christians today.  Someone hurt us, abused us, sinned against us and we forgive that person "from our heart," but the one who hurt us doesn't know it.  For us it is a way we think we are listening to Rabbi Yeshua and living as true disciples.
On the other hand, even though this person I hurt may have "forgiven me in his heart," and I didn't know it, I was dealing with the Father and through His Spirit I was being plagued with guilt that I have not gone to this person, confessed my sin, repented, and asked for this person's forgiveness.  I had already done this with the Lord.  I knew I was forgiven.  But, the Lord would not let me off the hook!  Why?  Because He taught us this ...
"Therefore if you are presenting your offering at the altar, and there remember that your brother has something against you, leave your offering there before the altar and go; first be reconciled to your brother, and then come and present your offering." (Mat 5:23-24)
He didn't mean to seek forgiveness from Him and let it all go.  NO!!  He is teaching clearly that I need to go to the person, confess, repent, and seek their forgiveness.  I did go to that person.  I did confess, repent, and I asked for this person to forgive me.  I was forgiven by that person.  I must say this was one of the most difficult things I have ever done.  It was easy to go to the Father and confess and repent and seek forgiveness.  But, doing that with the person who I sinned against, that is entirely a different matter.
So, we now return to the Lord's Prayer -
תפילת האדוי - HaTehfeelah Adonai  
We will focus on the verse Matt. 6:12 where we pray that the Lord will forgive us our debts as we forgive our debtors.  Why use the word debt or debtors?  Why didn't Jesus use the word sin and sinners?  Besides that it seems as if Jesus is showing us that if we want to be forgiven by the Lord we first need to forgive.  Is that what this all means?  Once again, we are reading in English translated from the Greek which is translated from the Hebrew and it comes out of a totally Jewish culture of 2000 years ago.  Is it possible then as we put this verse into its historical context that things will begin to make real sense?  Answer!  You better believe it.  Moreover, we will see how it relates to the situation I described from my own life.
Links promised in this session ...
1) Brad Young's article at Jerusalem Perspective (Note - this is a pay site.  Cost is $60 per year.  It is a highly credible scholarly site that if you are serious about your Bible study this is one site that is a must) - https://www.jerusalemperspective.com/2300/
2) Link to lesson 1 of this series - listen to this to understand how this prayer is related to being a true disciple of Rabbi Jesus - https://lightofmenorah.podbean.com/e/truth-nuggets-6-the-lords-prayer-part-1-pray-like-the-rabbi/
Link 3 - Ray Vander Laan's article on "Rabbi and Talmidim" - https://www.thattheworldmayknow.com/rabbi-and-talmidim
Rev. Ferret - who is this guy?  What's his background?  Why should I listen to him?  Check his background at this link - https://www.dropbox.com/s/ortnret3oxcicu4/BackgrndTeacher%20mar%2025%202020.pdf?dl=0