The study of the Bible in its historical context - with a focus on the archaeology, history, geography, customs , culture, and even the languages of the ancient Middle East. WE ask what did they understand THEN - the original intent of the Lord - so that we can expand and enrich our understanding NOW and thus become true disciples of Adonai Yeshua as in John 8:31-32.
Episodes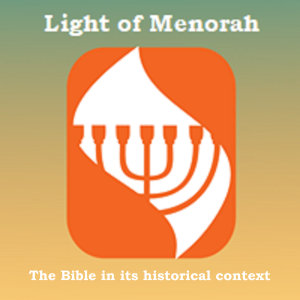 Thursday Nov 09, 2023
Thursday Nov 09, 2023
THE STORY OF JOSEPH - lesson 3
GOD'S PARADIGM OF SALVATION OF THE WORLD
In this lesson we continue on with the events in Joseph's life leading up to his brothers nearly trying to kill him.  Judah saves Joseph and the brothers decide to sell Joseph to the Midianite or Ishmaelite traders. There is a question any of us would ask if we read the story carefully.  For example check out Gen. 37:36 and Gen. 39:1.  Who sold Joseph to the Egyptians?  In one verse it says the Midianites and in the other verse it says the Ishmaelites?  What is going on?  Does this mean the Bible is a book with error and irreconcilable issues?  NOPE.  We will see the Bible actually helps us with the solution to this supposedly impossible issue.
So, Joseph is 1) hated by his brothers and 2) they are jealous or envious of Joseph and 3) the plot to kill him.  But remember the rabbis of old recognized something truly amazing.  The Lord is uses PARADIGMS or patterns, templates, or models.  It is the Lord taking a person or event that becomes a prototype (synonym for paradigm) for another person in the future or an event in the future.  The rabbis have a saying for this ...
חיי האבות הם סימנים לבנים
HaYay HaAvot Seemaneem Lay Baneem
The Lives of the Fathers are Signs for the Sons
In light of this the rabbis early on connected Joseph to the Messiah.  They said Joseph was a prototype of the Messiah.  For us that means Jesus.  And just as we will see in this podcast that Joseph is 1) hated by his brothers and 2) they are jealous or envious of Joseph and 3) the plot to kill him.  We also see that Jesus was 1) hated by his brothers (fellow countrymen) and 2) they were jealous of Him and 3) they met in secret to plot how to kill Him.  Joseph is a paradigm of the coming Messiah, our Jesus.  Joseph is God's model of what a savor of the world should be like.  Joseph saved the world with the bread of the earth.  Jesus saved the world with Himself and through Himself with the bread from heaven.
For more resources to study this in more depth check the links below.
Link 1 - a great article from the awesome website, Hebrew4Christians, focusing on one title of the Messiah the rabbis used in the time after the 3rd century A.D., "Maschiach ben Yosef," or Messiah the son of Joseph.  This has to do with the fact the rabbis recognized that the Messiah had to suffer and even die.  They also recognized that the Messiah would also be victorious as well and establish the throne of Israel in Jerusalem in the days called "The Messianic Age" or the day Messiah comes to rule and reign - https://www.hebrew4christians.com/Articles/Mashiach_ben_Yosef/mashiach_ben_yosef.html
Link 2- a second article written by my lead teacher in my graduate program, Dr. Ron Mosely that discusses Joseph is a prototype of the the suffering Messiah just like David is a prototype of the conquering Messiah - https://www.academia.edu/3796976/Twice_Rejected_Mashiach_Ben_Joseph
Link 3 - a link to Netivyah ministries in Jerusalem.  This is a Messianic Jewish ministry founded by Joseph Shulam, an amazing Jewish scholar who helps us reconnect to our Jewish roots of our faith.  This link is to a book written by one of their resident scholars, Elhanan ben Avraham, "Moshiach ben Yosef" (Messiah the Son Of Joseph).  I highly recommend you get this book and all the books you can buy from this ministry - https://netivyah.org/product/mashiach-ben-yoseph/
Rev. Ferret - who is this guy?  What's his background?  Why should I listen to him?  Check his background at this link - https://www.dropbox.com/s/ortnret3oxcicu4/BackgrndTeacher%20mar%2025%202020.pdf?dl=0