The study of the Bible in its historical context - with a focus on the archaeology, history, geography, customs , culture, and even the languages of the ancient Middle East. WE ask what did they understand THEN - the original intent of the Lord - so that we can expand and enrich our understanding NOW and thus become true disciples of Adonai Yeshua as in John 8:31-32.
Episodes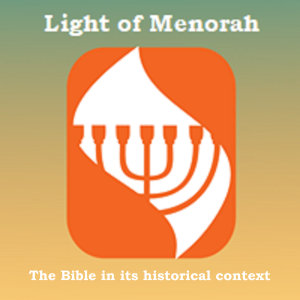 Thursday Nov 16, 2023
Thursday Nov 16, 2023
LESSON 49 PART 2
GOD'S NEW LAWS ON SLAVERY
I mentioned in the audio lesson about a number of links I'd provide that will enhance and add to your study.  These links are shown below.
Great article on slavery as found in the Bible – a must read for all of you serious about your understanding of God's word -
https://www.jewishvirtuallibrary.org/slavery-in-judaism 
Another awesome article reviewing slavery in the Bible – discussing that God was setting up conditions to eliminate slavery once and for all -
https://www.thetorah.com/article/the-treatment-of-non-israelite-slaves-from-moses-to-moses
Here's a third article reviewing slavery Biblical slavery – these three articles are a great way to get a detailed view of what God's word with His people 3400 year ago to be a witness to all the surrounding pagan nations as to who God is and His special and unique view of all men and women - https://www.bibleodyssey.org/articles/slavery-in-the-hebrew-bible/
In this podcast we will see how non-Hebrew slaves were to be treated by the Hebrews then, in the 15th century B.C.  For example, check out Lev. 19:18 and 34. 
You shall not take vengeance, nor bear any grudge against the sons of your people, but you shall love your neighbor as yourself; I am the LORD. (Lev 19:18)
The stranger who resides with you shall be to you as the native among you, and you shall love him as yourself, for you were aliens in the land of Egypt; I am the LORD your God. (Lev 19:34)
Here in the Torah, God's instruction, the Lord is telling the Hebrews 3400 years ago that 1) to love your neighbor as yourself and 2) to love the stranger as yourself (Hebrew word translated as stranger means then one living close to you, not a Hebrew, and a pagan – it does not exclude the non-Hebrew slave who is a resident stranger, non-Hebrew, living among you – slaves are included).  Thus, it is clear the Lord is telling them then and us now that the stranger among us, one who is not like us, one who is not even part of our religion, are to be loved by us as our neighbor.  We notice that slaves are included in these laws.  Why?  Because God does not say that slaves, Hebrew and non-Hebrew slaves, are excluded from these laws.  This would've been explosive in the ancient Near East back then when slaves were looked down upon as almost not human in some cases.  But, our God, the only God, the true God, the God of Abraham, the God of Isaac, the God of Jacob, and the God of Israel, as we shall see in this lesson, is saying to all of us that we are made in His image, plus that all men and women are equal in the eyes of the Lord, and all men and women are to be treated as if almost as if they were family.  When we sit back and stop to listen as they heard God's word then, we see that our God is totally awesome and has given us a perspective for us today of how we as His people should treat and love others.  Jesus said it be when we read about a question He was asked in the Temple Courts …
One of them, a lawyer, asked Him a question, testing Him, "Teacher, which is the great commandment in the Law?" And He said to him, " 'YOU SHALL LOVE THE LORD YOUR GOD WITH ALL YOUR HEART, AND WITH ALL YOUR SOUL, AND WITH ALL YOUR MIND.' "This is the great and foremost commandment. "The second is like it, 'YOU SHALL LOVE YOUR NEIGHBOR AS YOURSELF.' "On these two commandments depend (the Greek word translates a Hebrew word meaning "crucified."  WOW!!  Is Jesus giving us a picture that the Written and the Living Word a day or two later were crucified together?)  the whole Law and the Prophets." (Mat 22:35-40)
Rev. Ferret - who is this guy?  What's his background?  Why should I listen to him?  Check his background at this link - https://www.dropbox.com/s/ortnret3oxcicu4/BackgrndTeacher%20mar%2025%202020.pdf?dl=0